Zamzam Pullman Madinah Hotel is one of the best modern hotels in Medina, as it is characterized by luxury and sophistication, and its luxurious designs, inspired by the authentic Arabic character, while its rooms are famous for their distinctive décor, which is dominated by French character, with charming Arabic touches, in addition to its unique restaurants, which offer... An exceptional dining experience.
Zamzam Pullman Madinah Hotel
The hotel is located in the heart of Medina, where pilgrims and Umrah performers are keen to reserve their places and stay there throughout their trip, due to its proximity to the holy places.
Location of Pullman Zamzam Madina Hotel
The hotel is located 150 meters from Bab al-Salam of the Prophet's Mosque.

It is only a 7-minute walk from Al-Baqi Cemetery.

While it is only 7 minutes away from the Prophet's Mosque and can be walked on foot.

It is 16 minutes away from Quba Mosque, as well as Al-Ghamama Mosque.

It is also 3 kilometers away from the "Hejaz Museum."

The hotel's location is:

Amr Bin Al Gmoh Street, Bani Khudrah, Medina 41499, Kingdom of Saudi Arabia.
Description of hotel rooms

The hotel has several accommodation options with rooms of various sizes and decors.

Zamzam Pullman Madinah Hotel rooms include a private bathroom and a designated place to receive guests.

All rooms feature wonderful views of the Prophet's Mosque.

The hotel also allocates rooms equipped for people of determination.

All rooms are air-conditioned and equipped with the most luxurious bedding and sheets.

The rooms include a wardrobe and a desk for managing guest's work.

It also includes free Wi-Fi, which covers the entire hotel.

The hotel contains 835 rooms and suites, with very elegant designs.
Hotel restaurants

It features 4 of the most luxurious international restaurants inside.

It includes the Acacia Restaurant, which serves three meals with international flavours.

As well as Mandara Restaurant, which is famous for serving all delicious oriental cuisine.

Its restaurants offer several light and distinctive meals for breakfast.

It also offers special meals for children.

It is keen to provide a diverse and very distinctive menu from all international cuisines.

It offers cold drinks and fresh juices, and all types of coffee and hot drinks are also available.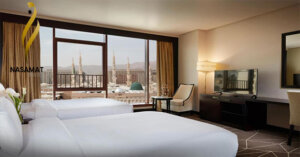 Read also: Safwat Al-Ghufran Hotel, Makkah
Facilities of Zamzam Pullman Madinah Hotel
Pullman Zamzam Madina Hotel has a large parking lot, providing space for a car only at a price of 2 riyals per hour.

The hotel also provides excellent, multilingual customer service.

The number of floors of the hotel is 10, while the number of its rooms is 650.

It also provides several distinguished services to its customers, the most important of which is: currency exchange.

It offers a modern car rental service for travel, as well as a small parking lot designated for people of determination.
Book Zamzam Pullman Madinah Hotel
Zamzam Pullman Madinah Hotel can be contacted for reservations or inquiries at:
 966148210500+
The arrival time to the hotel is 4:00 pm.

While the departure time of the Pullman Zamzam Madinah Hotel is at 12:00 pm.
Don't forget to check out: Al Ansar Golden Tulip Hotel
Hotel prices
The hotel's prices are considered one of its most important features, as its prices are compared to its enormous capabilities, and are within the reach of many people.

The price of a standard room at Zamzam Al Madin Hotel per night starts at $82.

While for premium rooms, their prices start from 312 dollars.

The hotel's prices vary from one season to another and may increase or decrease somewhat.
Also sold:Fajr Al Badi Hotel 2
In conclusion, in our article, we presented to you the Zamzam Pullman Madinah Hotel, as we learned about the hotel's location, as well as the methods of booking, in addition to that we learned about the description of the rooms, and what the restaurants offer in it, in addition to its facilities and prices.